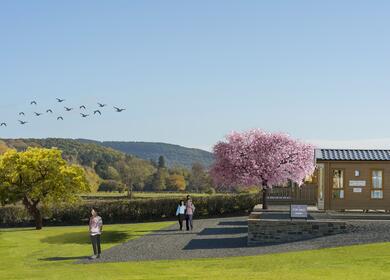 I love it when a plan comes together! Rockbridge Park is about as peaceful and quiet as it can be. With beautiful, starlit, night skies and relaxing, restful days, this was just the vision of Glenn and Hannah.
The first plots are in place, all ready for that luxury lodge that will make your holidays very special indeed, but it wasn't until we had an artists impression of the site that the scope of the vision was fully realised. We think it looks fantastic and if you have not had the pleasure of a trip to Rockbridge - less than 20 mins from Pearl Lake and Arrow Bank - then it is well worth  it. You can take your time to savour the atmosphere; stand on the plots and choose the one with a view to feed your soul every day; take in a stroll through the market town of nearby Presteigne, maybe a spot of lunch or a cream tea?
There is no doubt that Rockbridge is the quietest of the Discover Parks and for those of you who have always dreamed of a lodge plot with glorious views of the Welsh hills, then Rockbridge is the park for you!
Visit the park any day 9am-5pm or chat to our sales team about what you have in mind.