Things to do close by in stunning Mid Wales
Wales is, quite simply, breath-taking
How beautiful is the area? The Automobile Association voted the route between Presteigne and Aberystwyth one of the ten most beautiful drives in the world.
Rockbridge Park is located in the unspoilt surroundings of the Radnorshire Hills, close to Offa's Dyke trail and the charming historic market town of Presteigne.
With castles and rivers, hill walking and valleys, golf courses and fishing lakes, historic properties, traditional Welsh market towns, cycling on the lanes and bridleways, stunning scenery, history galore... and that's before we even get to the huge selection of locally produced food and drink.
Offa's Dyke path
Walking Offa's Dyke path and staying at Rockbridge Park
Passing less than 1 mile form Rockbridge Park, the journey of the Offa's Dyke Path through the borderlands of England and Wales truly offers something for everyone. Whether you are looking for a gentle stroll for an hour or two, or wish to undertake the whole Trail over a couple of weeks or more, a memorable walk amid spectacular countryside is guaranteed and Rockbridge Park has everything you need for a comfortable self-catering accommodation or a 5 star touring park to pitch your tent.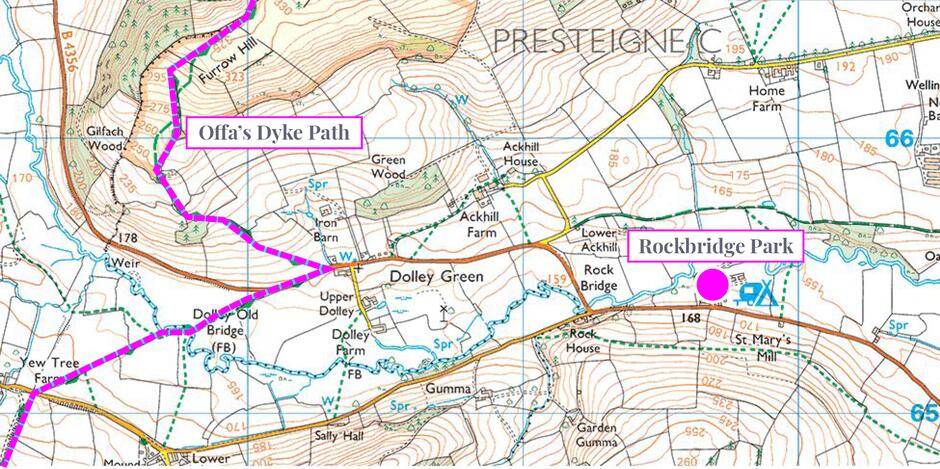 The Offa's Dyke Path, a 176-mile (283 km) long-distance footpath that runs between Liverpool Bay in the north and the Severn Estuary in the south, passes through or near to many historic towns, including Chepstow, Monmouth, Hay-on-Wye, Kington, Presteigne (close to Rockbridge Park), Knighton, Bishop's Castle, Montgomery, Welshpool, Oswestry, Llangollen, Mold, Ruthin, Denbigh, and Prestatyn. Along the way you will discover majestic castles, quiet country churches, enigmatic Iron Age hillforts and enticing country pubs.
And, of course, the Trail frequently follows the impressive Offa's Dyke itself. This amazing hand-dug bank and ditch was built in the 8th century by command of King Offa of the ancient Anglo-Saxon kingdom of Mercia. It was probably intended to divide Mercia from rival kingdoms in what is now Wales, and some sections still form the England/Wales border today.
Places to see in nearby Mid Wales
Some of the 'must see' places (we think) include Elan Valley, a series of valleys flooded (1893-1904) to supply water for Birmingham. A special place has been created in the process. There is a visitor centre, scenic drives through the valleys, walking, cycling, bird watching... you know it might just have it all!
Hay on Wye, visit the second hand book capital of the world. Home to the famous Hay Festival it is a beautiful town to visit and enjoy a slower pace of life.
Waterfall Country in the Brecon Beacons takes you to another world. Deep wooded valleys where the river has cut its' way through the soft limestone creating cascades and pools in a mystical setting.
Numerous Welsh market towns are dotted along the journey; Knighton, Builth Wells, Llandrindod, Rhayader, each offering  something different.
Golf Courses in Mid Wales and Herefordshire
Rockbridge is close by to some fantastic golf courses, both in Wales and over the border into Herefordshire. 
Around 30 minutes drive:
Llandrindod Wells Golf Club – Nationally renowned Llandrindod Wells Golf Club is one of Wales' most loved golf courses. Designed by 6 times Open Champion Harry Vardon, and 5 times Open Champion James Braid, it provides a challenging test of golf in a breath-taking setting in one of the most beautiful and scenic parts of the Principality.

Builth Wells Golf Club – Another great golf course set within the beautiful welsh hills. The 18 hole golf course is great to unwind and enjoy a game whilst taking in the breath-taking Radnorshire countryside.

The Raven's Causeway at Herefordshire is a visual treat. Spectacular, challenging and physically demanding - a gem of a course.
Other golf courses in Mid Wales and Herefordshire that deserve a mention:
The links-like course at Kington, the highest 18 hole course in the country. With no sand, no trees and no water it's easy to think this is a push-over. No matter how you play, the greens are exceptional, the views are stunning and there is no other place quite like it.
Rhosgoch Golf and Leisure Club – A little further than Builth and Llandrindod but this course boasts a fantastic setting to enjoy a game of golf surrounded by the stunning views of Radnorshire Hills.
Burghill maybe a course for the big-hitter, but we all know that's no good if it's not straight. Everything to test you is here - unsighted tee shots, water, positional play is key, and demoralising long second shots that still fall short of the green!
Leominster has a couple of courses - a hilly 18 hole epic at Leominster Golf Club and two fascinating 9 hole outings at The Grove, all highly recommended.
Plenty more nearby with Ludlow, Cleobury, Rolls of Monmouth, Sapey, there is also a very challenging 9 hole golf course at Pearl Lake (just 10 minutes away) for the exclusive use of guests staying at Discover Parks. Honestly, if golf is your game then staying at Rockbridge Park puts you in the heart of some fine courses.
Fishing in Radnorshire and Powys
5 star caravan site with river fishing
Rockbridge boast a location on the banks of the River Lugg. A quiet location for trout and grayling, maybe some dace and chub... a very pleasant time awaits.
Farther afield there is the spectacular River Wye and River Teme, fisheries at Froggatts (Ludlow), Llandrindod lake (Llandrindod wells) and Red Lion Piscators (Shobdon) all offering a great experience to add to your holiday.
Rambling and walking in Powys and The Marches
Is there anything better than a country stroll ending at a nice cafe or bar? With woodland walks, high ridges and river valleys Powys and The Marches really does have it all. The park even has a dog wash to keep those muddy paws at bay! 
As well as Offa's Dyke Path there is the Mortimer Trail running from Ludlow to Kington, crossing rivers and forested ridges. Maybe you can tread in historical footsteps?
Towns, villages and cities
Presteigne:
A small, friendly Welsh market town - is less than a mile from Rockbridge Park - where there always seems to be something going on. Presteigne is a pretty market town on the River Lugg, on the border of England and Wales. Once the county town of Radnorshire and boasts a wonderful variety of historic buildings around the old town core. Presteigne, or Llanandras in Welsh, is situated in glorious unspoilt countryside in a picturesque area of the Welsh border region yet within easy reach of Hay on Wye, Llandrindod Wells, Shrewsbury, and Ludlow.
Llandrindod Wells:
The town evolved from a small farming community into a popular resort and Spa town where Victorians flocked to take the waters. You can still try the waters at the Chalybeate Spring in the Rock Park and see the wonderful architecture from that time all around the town.
The Black and White Village Trail:
This is where I run out of superlatives. See remarkable buildings in picture postcard villages. Spend some time taking a step back in time and remember how lovely it can be living a simpler life. A 'must see' if you are staying at Discover Parks.
Ludlow:
A beautiful castle town set on a hill above the River Teme. Passing time in Ludlow is like being in another world; slower, easier, friendlier - just like staying at Rockbridge Park.
Nearby Leominster
Pronounced 'Lem-ster' it is a fascinating old market town that has many alleyways and historic buildings. There are coffee shops and antique shops, bric-a-bracs and independents, all waiting to be discovered. Leominster Priory, the Museum, the Grange all have an amazing history.
Historic Hereford:
Farther afield is Hereford with everything here from the Mappa Mundi, Hereford Cathedral, riverside walks great cafes and independent shops.
There's so much more to see and do, there really is something for everyone. A  relaxing trip to one of the local towns for lunch and coffee; maybe a riverside walk in the afternoon or just passing the time with a good book and a glass of wine into the evening before heading out to a fantastic choice of local pubs and restaurants. This is proof that there is no such thing as 'too much of a good thing'!
There's only one way to find out...