Buying a Holiday Home FAQs
Holiday home buyer's briefing
Tens of thousands of people enjoy the freedom of leisure home ownership on holiday parks in Britain. The caravan will be yours to enjoy throughout the year whenever the park is open – for both short breaks and longer stays. There's no need to book ahead, and all your home comforts will be ready and waiting.
But before you commit to buying a holiday home, it's worth spending a few minutes understanding how holiday home ownership works, and what factors will help ensure that you'll get the most out of your purchase in the years to come.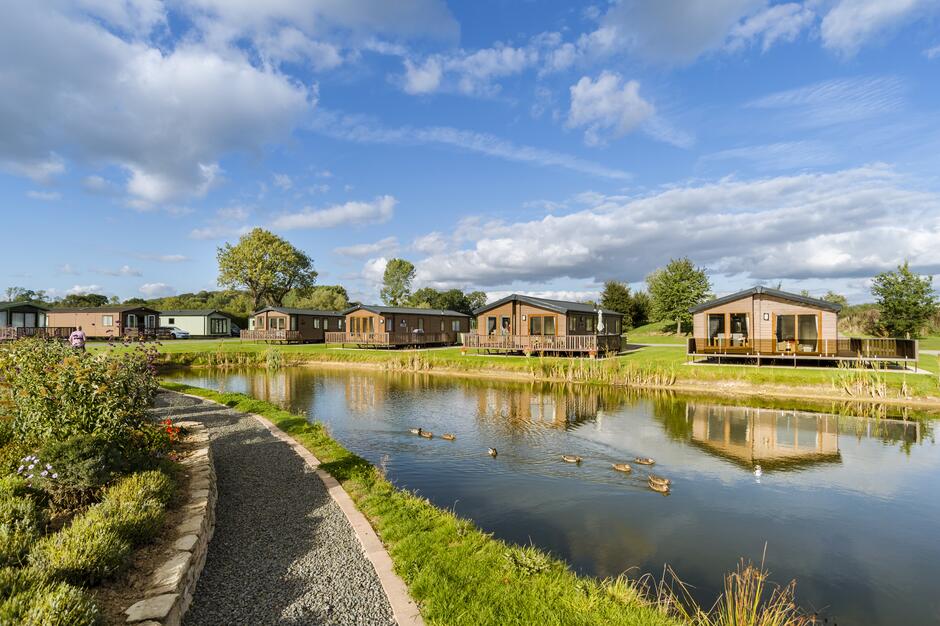 Here are the answers to some of the questions you may already be asking – and others you might be glad we mentioned!
How far afield should I look?
To get the most out of holiday home ownership, many people choose a park location no further than two or three hours' drive from where they live.
When can I use my holiday home?
It is important to check the months of the year in which a park is open for you to use your holiday home. Some parks are open all year, but many close for two or three months in winter.
How can I tell if the park is right for me?
Visit several parks to get a feel for what's on offer. Some may also hire holiday homes, and you could consider a short break in order to better judge the park and surrounding area. If you wish, ask the park owner to introduce you to some existing owners for an informal chat about their experience.
What influences the cost of a holiday home?
Prices for a caravan holiday home or lodge vary up and down the country, and like conventional properties, location is a key factor influencing the cost – together with the range of facilities offered by the park, such as a pool or entertainment
What's included in the price?
The quoted price will almost invariably include all of the carpets, furnishings, kitchen appliances and other basic equipment. If buying a new holiday home, there may be options such as dishwashers, washing machines or decking and skirting to consider.
What else should I budget for?
If you are buying a brand new unit – as opposed to buying a holiday home already located on the park – check if there's extra to pay for having the unit transported from the factory, sited on the pitch, and "commissioned" (made ready for your occupation and connected to the utilities). Other costs to consider will be the annual pitch fee (what you pay for the right to occupy your pitch on the park), utilities such as water, gas and electricity, plus rates and insurance for your holiday home.
Will I be asked to sign a contract?
It's in your own interests to ensure that you sign a written contract (known as a "licence agreement") from the park. In fact, we would not advise going ahead with buying a holiday home unless you have been provided with a written agreement – and have read, understood and are happy with its terms. It is important that you review and are satisfied with the terms offered to you at the park of your choice.
What should I look for in the agreement?
Check especially how long the agreement runs for as this will lay down how many years you can keep your holiday home on the park. Ten years should be the minimum for a caravan holiday home, but the term may be longer – especially if you are buying a lodge. Also check the agreement for any park rules which might apply to you. For example, if you wish to sub-let, is this allowed? Are pets permitted on the park, and will this affect you? Will you have free use of park facilities such as a swimming pool?
What happens if I decide to sell?
Check the agreement for what will happen if you decide later to sell the holiday home or to move it off the park, and what the financial arrangements will be. The agreement should specify, for example, the amount of commission which may be applied to the selling price. The commission recognises the park owner's interest in the land, and the transfer of the agreement rights to the new owner.
Is my holiday home just for leisure use?
Yes, most definitely. You can use your holiday home for short breaks and longer holidays, and some retired people spend many of the summer months in their second home. But it cannot be used as your main residence as this would breach the park's site licence, and you would have none of the protection in law provided to occupiers of residential parks. Don't be surprised if the park asks you for proof (at the outset and at intervals in the future) that you have a permanent home address elsewhere.
Visited for the open day, lovely site, very friendly managers, spectacular views.