| | |
| --- | --- |
| 2023 - Premier pitch: Price per pitch, per night |   |
| Low season | £25.00 |
| Mid season | £32.00 |
| High season | £37.00 |
| 2023 - Serviced pitch: Price per pitch, per night |   |
| Low season | £23.00 |
| Mid season | £27.00 |
| High season | £32.00 |
| 2023 - Serviced camping: Price per pitch, per night |   |
| Low season | £23.00 |
| Mid season | £27.00 |
| High season | £32.00 |
| 2023 - Standard camping: Price per pitch, per night |   |
| Low season | £19.00 |
| Mid season | £23.00 |
| High season | £30.00 |
| 2023 - Grass 'hiking' pitch (one man tent, no vehicle): Price per pitch, per night |   |
| Low season | £12.00 |
| Mid season | £12.00 |
| High season | £12.00 |
| | |
| --- | --- |
| Please note extras to be charged for: |   |
| Children under five years old | free |
| Children 5 - 14 years old (per child, per night) | £2.50 |
| Extra persons, 15 years + (per person, per night) | £5.00 |
| Additional vehicles (per pitch, per night) | £2.00 |
| Pup Tent (+ charge for extra person) | £2.00 |
| Dog (per dog, per night. No unsocial dogs. Max. 2 per pitch) | £1.00 |
| Extended stay (until 4.00pm) Subject to availability | £5.00 |
| Day visitors (per person) | £2.00 |
Season Dates: 1st March to 30th November.
Arrival time from 12pm onward, please vacate pitch by 11am on day of departure. Extended stay may be available subject to availability.
Dates are inclusive, deposit required at time of booking (Full payment in high season)
Low season: 01/11 - 30/11, Mid season: 01/03 - 31/10, High season: 01/04 - 04/06, 21/07 - 03/09.
High season and some other dates may have a minimum stay restriction, please ring if your preferred dates are not showing as available.
Please call 01547 560300 and speak to a member of the team if the booking system does not cover any extra's you may require.
We have four different pitch types to suit your every need:
Premier pitch – Hard standing, fully serviced with drinking water, 16A electric hook-up, amplified digital tv connection, night light on service bollard and grey waste drainage.

Serviced Pitch – Hard standing, with 16A electric hook-up

Serviced camping – Grass pitch with 16A electric hook-up

Standard camping – Grass pitch, unserviced.
Please only use breathable groundsheets in your awning. If you are staying for an extended time please roll back groundsheet periodically to allow grass to breathe fully.
WiFi access is via Camping Connect. WiFi on park is free, although, with the quirks of (very) rural broadband, this is best left for checking emails and social media posts and not fit for downloading or streaming services.
**NOTE: (TV) Our fully serviced premier pitches have the benefit of an amplified TV signal (included in the pitch price). Without an amplified supply/signal, the site does not have a good TV reception, so please be aware of this if you have booked on a pitch other than a fully serviced premier pitch.**
Welcome to Rockbridge Park.
Once you've settled in, if you have any questions or problems, you will be able to find one of our team quickly and easily. But if you just want to get on and enjoy your time with us, you'll be able to do just that too.
Get a great deal on touring caravan insurance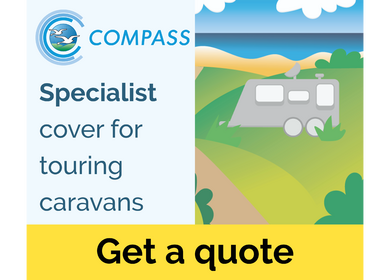 We work closely with Compass Insurance to help our customers get the best deal for their needs.
Click here to get a quote for your touring caravan with our trusted insurance partner.