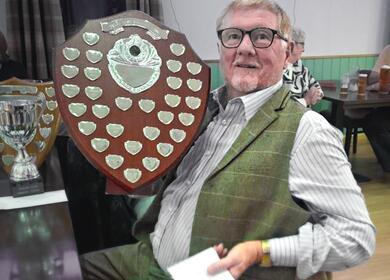 Club Championships
HUGE CONGRATULATIONS to this years new champion catch on the lake!
For those of you who aren't aware Alan Edwards from Stoke on Trent has been dangling his rod successfully in Pearl Lake for over a decade now.
His total catch in this years competition - of both perch and tench - weighed in at a whopping 21lb 6oz!!
The highest aggregate weight gained him top place beating former champion Alan Williams hence reclaiming the treasured club shield which has been doing the rounds since 1988.  It was prized out of the hands of one Alan into another by the evenings organiser and avid fisherman himself Tony Ward.
The seafood dinner of salmon and prawns went down a storm as did the Seashanty group the 'Lower Deckers' from Church Stretton who were certainly the highlight of the evening.
So Alan Williams from Wolverhampton - 20yrs fishing on Pearl Lake - came a close 2nd
Steve Peplow from Swansea in at 3rd and last but not least Dave Hovvis from Stourbridge.
WELL DONE ALL AND CARRY ON FISHING!!!