Luxury Lodge Holidays
2 Bedrooms,
37 x 12
Superb Luxury lodge

Fully equipped

Beautiful views

Private parking

Open plan living

2 bedrooms

Family shower room

Pet friendly
Luxury Lodge Holidays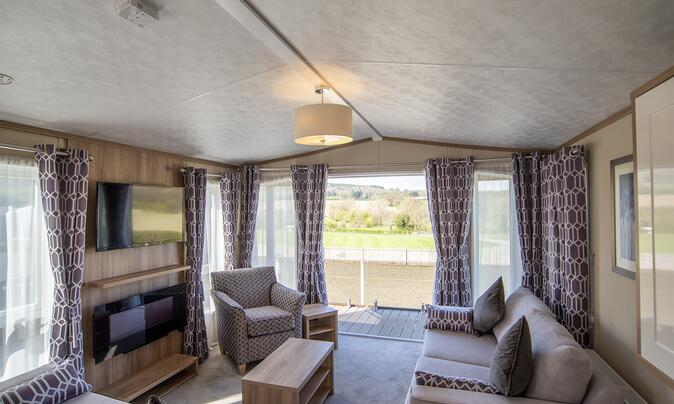 Luxury lodge holidays in Wales
Luxury lodge self catering holidays at Rockbridge Park.
Imagine treating yourself to a fabulous, luxurious holiday in one of our fabulous lodges...
With far reaching views of the Radnorshire hills our holiday lodges are a fantastic get-away for family and friends. The property is entirely self-contained and fully equipped. All you need to bring is your food and clothes (don't forget your tooth brush).
This single unit lodge has an open plan living area with a dining area for four people next to a well designed kitchen. The lounge makes the most of the beautiful views with patio doors on to the front and side decking.
WiFi access is via Camping Connect. You will have 30 minutes free and then charges will apply. Ask reception for more information.
Available to book now, this is a great location to enjoy that well-earned rest. 
NB: Minimum booking of 3 nights.
NB: There is an additional £25.00 charge per stay if you bring a dog(s) with you (maximum of 2 dogs, staying in a pet friendly property)
Contact us on 01547 560300 or email us your booking enquiry or book now
NB: Currently we are developing part of the park at Rockbridge to create a more luxurious, peaceful environment for the new privately owned holiday home plots. Unfortunately, depending how sensitive you are to the work, this can have an affect on your time here. We strive to offer our visitors a genuine, relaxing experience, but during work hours (Monday to Friday) there could be increased traffic and road dust as well as some machinery noise. The park will always be peaceful - some say, idyllic - in the evenings.
There are picnic benches alongside the river and plenty of space to enjoy the location. The adjacent footpath can be accessed by crossing the river bridge for beautiful country walking scenery.
If you do experience any discomfort during your holiday please come and see us in reception and we shall endeavour to rectify - or at least, ease - the circumstances.
Holiday homes available at our other parks